2007
December 2007
- '
Art'
Group show featuring Pato Cassinoni and guests
2nd December 2007
-
Gordon Matta - Clarke
Panel discussion in association with This Is Not A Shop
29th November to 1st December 2007
-
'Selection Box'
Exhibition by La Catedral Studios artists (
http://lacatedralstudios.blogspot.com/
)
22nd - 27th November 2007
-
Unit_Y exhibition
www.myspace.com/unit_Y
14th September 2007
-
Culture Night
Intimate open studio night,
http://www.templebar.ie/
September 2007
-
Dublin Fringe Festival
'The Tragedian Trilogy', Mamuska Nights, 'Desert Inn' -
http://www.fringefest.com/
,
http://www.mamuskanights.net/
7th - 8th July 2007
-
'Have You Met Nosti?'
Salon festival of the Balkan Irish Arts Forum
http://www.balkanirishartsforum.com/
28th June - 3rd July 2007
-
'Vajra'
Painting exhibition by Paul Maguire
June 2007
-
'P-A-I-R'
-
'Figure and Landscape'
-
'The Right Art'
Visual art group exhibitions.
May 2007
-
'Escalations'
NCAD 3rd year sculpture exhibition
5593
DIT third year photography exhibition
Dara
IADT second year fine arts exhibition
'Gold Star MFA'
NCAD Master of Fine Arts student exhibition
13th - 14th April 2007
-
'Fast Forward Ireland'
24 - hour filmmaking festival
http://www.fastforwardireland.com/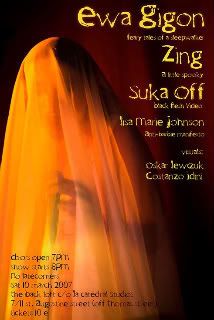 10th March 2007
-
Ewa Gigon
Cabaret, music and visual experimentation,
www.myspace.com/ewagigon
8th March 2007
-
Stinging Fly Book Launch
2nd - 7th March 2007 -
'Postcards from the Edge'
Performance & performative art by woman artists.
23rd - 27th February 2007
-
'Believe Me, I Believe Me'
IADT 3rd year exhibition
7th - 17th February 2007
-
Don't Cry - Work
exhibition of objects and occurrences -
http://www.padraicmoore.4t.com/
12th - 14th January 2007
-
Fergal McCarthy exhibition
23rd - 30th January 2007 -
'Without a Parachute'
MOXIE Dublin debut show
www.myspace.com/moxiedublin
2006
1-3 December 2006
-
Conspirators of Pleasure

A group exhibition organised by a collective of visual artists based in Dublin, exploring the darker side of the human psyche.
26th - 27th November 2006
-
Papered Bodies

A mixed media exhibition by Jeanne Merer, with performances by various artists inspired by the paintings on display.
23rd -29th October 2006
-
Absent -
A Beckett For the Phone Age
Theatrical performance written and directed by Tom Pius
13th-17th October 2006
-
New Work by Turlough Rynne
Pen and ink drawings of Dublin City streets.
28th September-6th October 2006
-
THE CRINGE
Multimedia exhibition by a group of Sligo trained painters. Through this show they aim to bring together totally different mediums from around the country.
11 September 2006
-
Dublin Fringe Festival
Cataplasia
- choreography: Daniel Vais, performers: The Love Spotters
A magical and poetically charged performance dancedby a collective of artists with mild to moderate disabilities.
7th September 2006 - Majka Design Fashion Show:
A night of quirky fashion on the catwalk of the Back Loft presented by Fashion Designer Maria Tapper.
1st - 6th September 2006 - Iremonger/Turping Painting Exhibition

3-7 July 2006 - Theatre Workshop
The Corn Exchange


10th - 16th June 2006 - Open Doors -La Catedral Studios' Launch
A week of art exhibitions by the resident artists of La Catedral Studios to celebrate their one year anniversary in the newly refurbished premises at La Catedral Studios. The week long event also featured an Argentinean tango night, a day of fashion and design fair,a life drawing session featuring life model ElenB and two tango dancers and an evening dedicated to specially selected feature films and short films. The launch of the studios was part of the Creative corridor-Thomas Street Art Festival promoted by Dublin City Council, encompassing all the artistic endeviours of the area.
16th - 21st May - Portent
A group show of photographic works including both still image and time-based media by third-year students on the BA Photography course at DIT, Temple Bar.
5th - 10th May - ZOOP by Octave
A mixed media exhibition featuring eight thriving artists recently graduated at the Dun Laoghaire College of Art and Design.
http://www.octave.ie/
26th - 31st April 2006 - Mapless
Opened by Mick Wilson. An exhibition of work in progress by MA students of NCAD
21st - 23rd April 2006 - 'Self' Portrait of an Artist
Opened by Mick O'Dea. A three day live art event by ElenB in collaboration with La Catedral Studios, featuring a mixed media exhibition of life drawings and portraits and interactive sessions of life drawing and photo portrait.
3rd - 10th April 2006 - FOUR
A mixed media exhibition by four resident artists of La CatedralStudios. Featuring work by Jenny Brady, Leda Scully, Fiach McKale and Vanessa Donoso-Lopez.


March 2006 - Films Shot on Location: TANGO IN D MINOR A film by Maurizio Usai (4th year student at the Dun Laoghaire College of film studies)
ROOFLANDERS A film by Swen (4th year student at the Dun Laoghaire College Of Film Studies)

Dance Workshop
Contact improvisation by Wolfgang Hoffman
25th January - 12 Feb 2006 - Despite My Good Intentions, A Wander Beyond
An international group show funded by the Arts Council and curated by Cahoime and Michelle Kilfeather, featuring artists from Poland, Greece, Hong Kong, Canada & England.
2005
18 November 2005
-
Visual Artists Ireland Launch
by the Sculpture Society.
13th December 2005 -
The Winter Solstice Project
A Night of performances, video installations with live acoustic soundtrack and art exhibitions by a group of students from NCAD
September 2005
-
The Dublin Fringe Festival
A Season in hell
by "The Stomach Box"
Aileens' lament for Art O'Laoghaire
by "Theatre Lumiere"
Captured Movements
- visual art meets theatre. The first visual art exhibition at the Back Loft, curated by illustrator Jeanne Merer in collaboration with a group of mixed media artists.